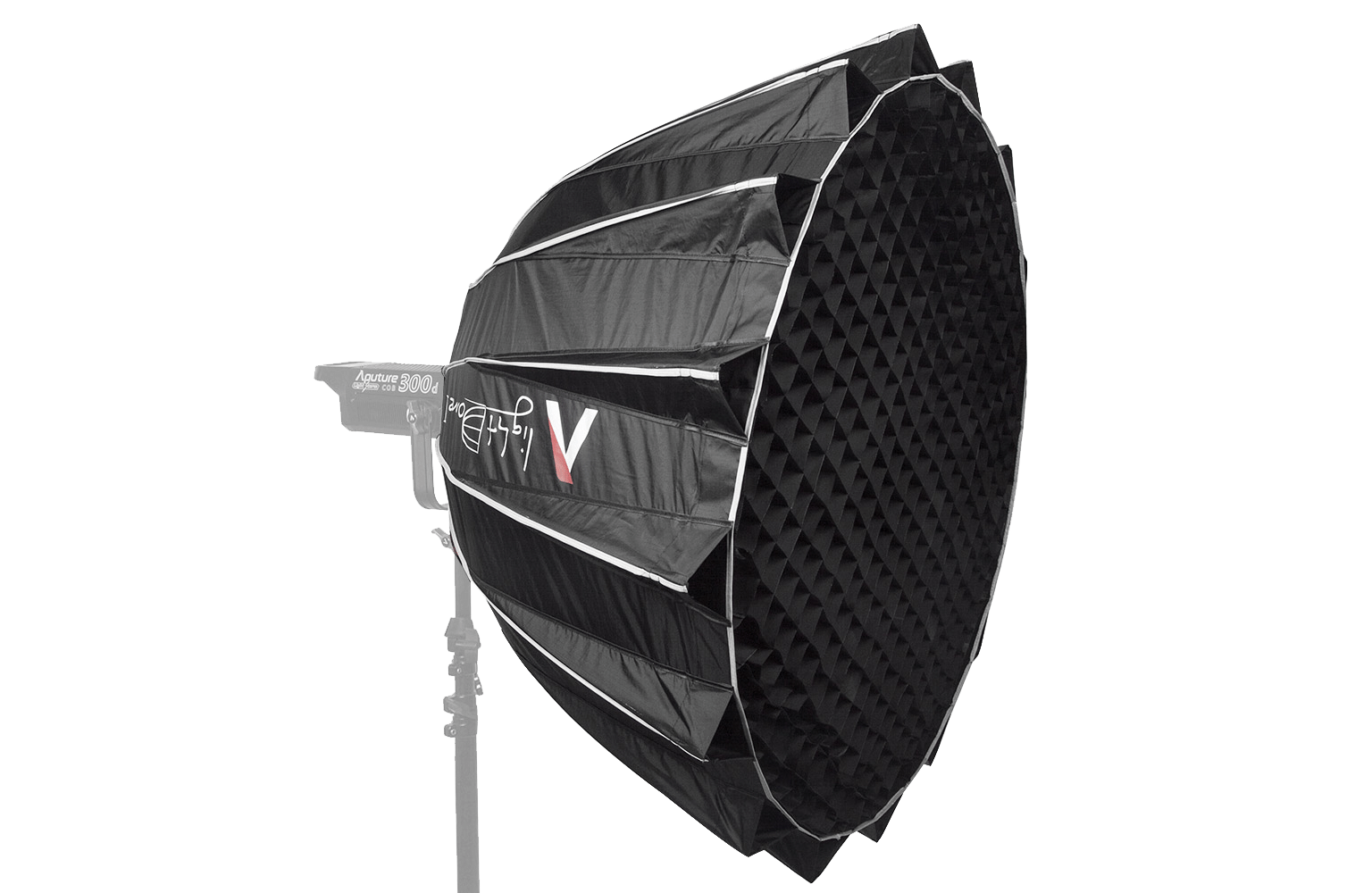 Hexadecagon Shape with 16 Steel Rods
2 Front Diffusers: 1.5 and 2.5 Stops
Removable Inner Diffuser
40° Grid, Gel Filter Holder
Widely Compatible Bowens Speed Ring
Carrying Bag
High-Output Reflective Silver Interior
Near 360° Beam Angle
For Hanging Overhead
Built-In Bowens Speed Ring
3-Foot Diameter 
1-Stop White Translucent
Includes Skirt for Controlling Light
For LEDs or Strobe
Aputure Fresnel 2X Attachment
6" Lens Diameter
Dual Lens Design Boosts Output
Beam Spread Variable from 12 to 40°
Exclusively for LS C120d, C120dII, C300d
C120d II is Up to 14x Brighter with Lens

Aputure Spotlight Mount Set with 26° Lens
Bowens Mount
Included 26° Lens
Dual Drop-In Slots
Aluminum Alloy Housing
Yoke with Dual Junior/Baby Mount
Gobo Holder and 3 x B-Size Gobos
Gel Holder and Cleaning Accessories
Compatible with Optional Iris

Nanlite Softbox for 1200SA/BSA/DSA LED Panels
FLATTERING LIGHT - removes the harshness of raw LED light, while also reducing light loss via a reflective silver interior. 
QUICK SET UP - No speed ring is required for mounting. Instead, elastic bands slip over the barndoors. 
FOLDS FLAT - The speed ring-less design also enables the softbox to fold completely flat for easy transport and storage. 
PERFECT FIT - Compatible with: Nanlite 1200SA, Nanlite 1200CSA Bicolor , Nanlite 1200DSA 
Nanlite Fabric Barndoors and Grid for PavoTube 15C
Lightweight 2-Way Barndoors
Narrows 180° Beam to a Tight 5°
45-Degree Fabric Grid
Approximately 2' Long
Nanlite Pavotube II 6C Fabric Grid
Eliminates Spill Light 
Narrows Beam Spread 
Enables Selective Lighting
Folds Flat for Storage and Transport